SPQ* Gold® helps you identify the strongest Sales Candidates
and gives you the answers to 3 important questions:
With SPQ* Gold® you will:
find out what keeps the existing Sales Team from performing at their best.
Save resources during the recruiting process.
analyze the results and increase the Sales Performance drastically.
This assessment is the result of many years of research. SPQ* Gold® has been used by satisfied companies since the 1990s, and we are now bringing our expertise to the rest of Europe.
The only test in the world specifically engineered to detect and measure all twelve types of Sales Call Reluctance®.
The SPQ* Gold® Assessment is one of the most popular tools adapted to measure people's ability to initiate contact with prospects, first call relocations, hesitations to sell and close sales.
The fear of prospecting, Sales Call Reluctance® and sales hesitation can now be identified with the SPQ* Gold® – Sales Preference Questionnaire by measuring the prospecting fitness of people in sales, sales management and customer contact. SPQ* Gold® Assessment clearly classifies how much initiative, energy and drive an individual has to be able to self-prospect on a consistent level. Furthermore, this assessment tool measures the energy spent on coping with inhibitors such as fear, avoidance or other emotional barriers that can hinder all of us in the process of Visibility Management.
The fear of sales prospecting can prove costly for the company in missed sales revenue. With the SPQ* Gold® Assessment, you will be able to estimate the cost of hesitation that exists within your company and we will demonstrate how you can win back missed sales opportunities.
Learn how the SPQ* Gold® Assessment can be of indispensable value and how you can diagnose prospecting fears and sales hesitations.
Do you want to deliver better results?
Do you recruit sales people and want to make sure that your are hiring the best candidates?
We can help you.

Format & Duration
Each workshop is 1 or 2 days in duration.
The training is very interactive so everyone gets the chance to participate.
Individual action plans are developed at the end of the workshop and we can build in follow up time with team members so they get feedback and can ask more questions as they put their learning into practice.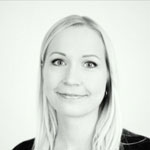 "I started out with zero experience in sales, but Annika's training quickly gave me the knowledge and confidence I needed to achieve my goals in lead generation. Annika has a vast experience in both sales and coaching, as well as outstanding people skills. She truly knows how to inspire people and help them reach their goals!"
Sofia Göransson – Education and Science Administrator at Örebro University